Dance team travelling to the World Championships of Irish Dancing in Scotland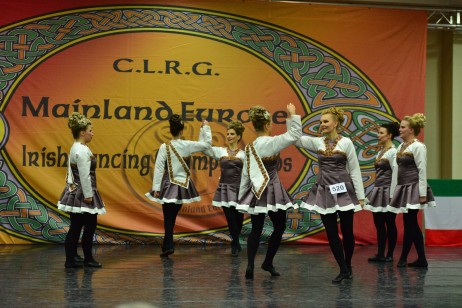 This autumn the céilí team Cailíní Nordacha of Irish dance school inSpiral Dance Company Finland qualified for the 2016 World Championships of Irish Dancing which take place in Glasgow, Scotland. The eight members of the team now need financial support for travelling to Glasgow, as well as for covering the accommodation costs during the competition and for upgrading their competition outfits.
Cailíní Nordacha
The members of our team live in four different cities (Helsinki, Tampere, Vaasa and Jyväskylä) in Finland, so on top of dance studio rents also travelling to dance team practice mounts up the costs during the practice period leading up to the competition.  Despite being in different situations in their lives, the eight members of the team – aged from 24 to 40 years – are united in their love for Irish dance and are keen to show that there are talented Irish dancers also in Finland. The team leader is Nelli Sinisalo and the dancers are students, engineers and everything in between.
We aim to practice every two weeks, as the travel expenses are too high and we can't afford to travel between the cities more often, as we should have to get the best results and improve our group dancing skills.
Irish Dance
Irish dance has developed from traditional folk dancing and it has become famous worldwide because of the Irish dance show Riverdance. Nowadays Irish dance is a popular hobby around the world. It is also traditionally very competitive and the main event of the sport is the World Championship competition arranged yearly over the Easter week. During the competition week thousands of dancers from 10-year-olds to adults compete in both group and solo categories.
Our team has competed in the World Championships of Irish Dancing once before and at the moment it is the best placing Irish dance team in Finland, so the expectations are high also this time. In November 2015 the team took part in the Mainland Europe Championships in Milan placing fourth in competition. The team also won the Nordic Championship at the Nordic Feis competition arranged in October 2015 in Turku.
Our team represents Finland
in the World Championships of Irish Dancing 2016 and though the sport may not be very well known in Finland, it is very popular elsewhere in the world. We now have the chance to realise our dream, and we also promote Finland by being the only Finnish team in the competition. We ask your support for covering the costs of the travel arrangements. Even a small donation helps and we are grateful for all the support given.
The minimum target sum would cover the eight team members' flights to Scotland, and the maximum target sum would also pay for our accommodation in Glasgow, as well as part of the practice period costs such as the dance studio rents.